We all know that Little Soya is delicious as a dipping sauce and can be used in marinades as well. But why not expand your culinary use of Little Soya into cocktails and even a snack! Check out these recipes we rounded up from the web and a few Little Soya fans then Bring Little Soya to your next party!!  (Don't forget about the Little Soya Ice Cubes, too!)
Abba Nugget
Drink Type: Shooter

Ingredients
3/4 oz. Vodka
1/4 oz. Little Soya

Instructions
Pour vodka into a shot glass. Layer in soy sauce.
Bloody Geisha
Drink Type: Cocktail
Ingredients
3 oz. Tomato Juice
1 1/2 oz. Sake
1 dash(es) Little Soya
1 squirt(s) Lime Juice
1 pinch(es) Wasabi
Instructions
Mix in a cocktail glass and garnish with celery sticks and a lime wheel.
This one is Gluten Free if you use Little Soya!
Chinese Mary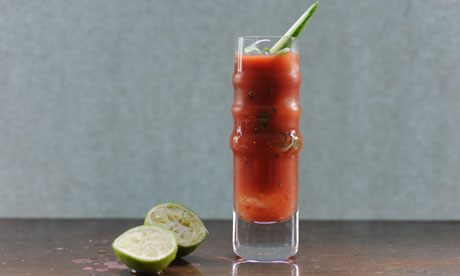 Drink Type: Cocktail
Ingredients
1 1/2 oz. Vodka
3 oz. Sweet and Sour Sauce
dash(es) Lemon Juice
1/2 tsp. Worcestershire Sauce
3 drop(s) Little Soya
3 drop(s) Tabasco Sauce
Pineapple Juice or Pulp
Instructions
Make like a Bloody Mary, improvising with ingredients until you find your preferred taste and texture. Ken finds it's a good idea to add extra vodka to thin out the sauce a little. When heated, this also makes a great sauce for food!
Michelada
Drink Type: Cocktail
Ingredients
12 oz. Beer
2 dash(es) Worcestershire Sauce
dash(es) Little Soya
dash(es) Tabasco Sauce
1 pinch(es) Black Pepper
1 oz. Lemon Juice
Salt
Instructions
Mix ingredients in a tall high glass with lots of ice. Add beer at the end. Mix.
Simply Soy
Drink Type: Cocktail
Ingredients
2 oz Grey Goose vodka
1/2 oz Little Soya -sesame simple syrup* Squeeze of lemon
2 dashes chocolate bitters
1/4 tsp grated ginger
Toasted sesame seeds and sugar, candied ginger, and a soy-sauce ice cube for garnish
*Two parts water to one part low-sodium soy sauce with a dash of sesame oil
Rim a rocks glass with a slice of lemon and dip in a mix of toasted sesame seeds and sugar. Combine the first five ingredients in a shaker, add ice, and shake. Strain into the prepared glass and add a soy-sauce ice cube. Garnish with a slice of candied ginger.
SRIRACHA AND BROWN SUGAR ALMONDS
1 cup raw shelled almonds

1 Tbsp light brown sugar

1-1/2 tsp Sriracha hot sauce

1 tsp soy sauce
Preheat oven to 350. Place the almonds on a baking sheet in a single layer. Toast in the oven for about 10 minutes, stirring every 2 minutes or so until the almonds are toasted and fragrant. Remove from the oven and pour onto a cold plate until the Sriracha sauce is done. For the Sriracha and brown sugar sauce bring the brown sugar, Sriracha and soy sauce to a gentle simmer just until the brown sugar is dissolved. Toss immediately with the almonds and spread on a sheet of parchment paper to cool.